Oral health needs during the orthodontic treatment, as in this period increases the risk of tooth decay. Teeth never deteriorate beneath the bracket violation enamel may occur around the bracket and the side surfaces of the teeth as a result of inadequate hygiene. It is important not only to clean the teeth, but also to eat. Your doctor, orthodontist will advise you on this topic if you want to hold hygiene and display equipment cleaning.
Oral health in patients with brackets:
Brackets complicate the daily care of your teeth and gums - food particles are not only between the teeth, but fall into the space between the elements of the brackets, and then accumulate plaque that contains bacteria gradually destroy tooth enamel. To clean the teeth of plaque using a toothbrush, special brushes, dental floss. Brushing teeth is necessary after every meal, especially carefully - at night. You have to remember that cleaning will take longer than usual, so plan your time in advance!
Ideal for cleaning brackets and interdental spaces dental floss flossing super firm Oral-B, its three components (holder flossing with a hard tip spongy fiber and regular thread) work to achieve the best result.
Threads need to move in an arc and hold interdental space without pressure not to injure the gingival papilla. Clean spaces and forth. Simply 1-2 moves "back and forth".
Further it is recommended to use a special toothbrush for brackets with the deepening of the center bristles. It is this brush will help you perfectly clean the outside of the brackets.
Clean the areas that "touches" and circular movements. Brush should be placed at an angle of 45 degrees to the tooth surface and bracket, then "circular'' movements down to the upper jaw pad cleans over brackets.
The lower jaw is the same, only "circular" brush movements directed upwards.
Be sure to clean the lingual surface of the teeth throughout the dentition, as here tartar formed most often harms the health of our gums.
Also brushing carefully under the surface of teeth brackets from cutting (chewing) edge.
To prevent damage to orthodontic appliances and not disrupt fixation brackets, be excluded from the diet all hard, sticky and crunchy foods (chips, tough meat, nuts, dried chewing gum), and very hot, or, conversely, cold food. Eat balanced, limiting himself in foods that contain excess acid and sugar. Eat more natural foods, fruits and vegetables.
Clean the gaps between elements brackets and forth using special brushes and brush. Simply 1-2 moves "back and forth". Daily use of all means save you from unpleasant odor and tooth decay!
Application of orthodontic wax.
Wax is applied during adaptation to braces. On average, this period is one week (two weeks in patients with lingual brackets). During habituation to protect the soft tissues of the oral cavity from sharp parts of brackets. For this and apply orthodontic wax, which adheres to the sharp parts, isolating the cheeks, lips and tongue. Above all, the patient must understand that the adaptation period will be faster and easier with a positive and proper mood for treatment.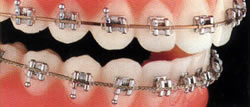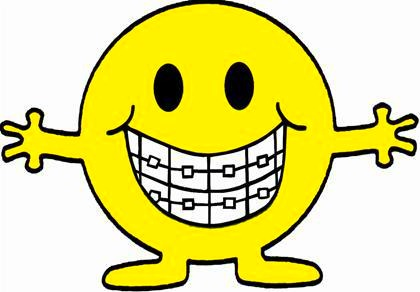 Let your teeth shine health and beauty!
Sincerely,
Yatsemirska Yana Igorivna
Dentist, orthodontist